Course details
【Customer's request course】 Budget, cooking content, time etc etc ... Consultation plan 3800 yen ~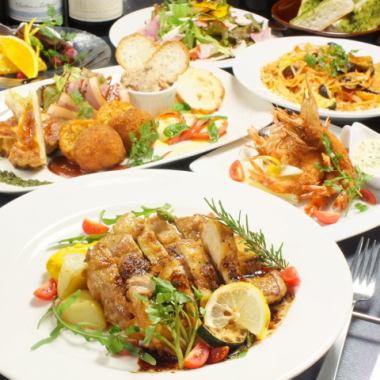 By using a coupon3800 yen
All-you-can-drink available

All-you-can-drink for 2 hours (LO: 90 minutes) / 【Monday · Tuesday and Wednesday only】 All you can drink with coupons LO 90 minutes ⇒ 120 minutes extended service ♪
Available days for reservation

Monday - Sunday - Public holidays - Holidays
We will make the course according to your request! Everything including budget, cooking content, all you can drink etc. OK ♪ Please in various situations please! Variety of parties, of course, girls' party and birthday party ♪ ※ Photos are images .
Course menu
It will be an example.
If there is hope, please do not hesitate to consult!
◆ Assorted appetizers 3 varieties
◆ Today's salad
◆ Garlic toast
◆ Shrimp
◆ Today's pasta
◆ Roasted chicken peach meat
◆ Ice
All-you-can-drink menu
·【beer】
· Beer / Shandogafu / Red Eye
· 【Barrel Sparkling】
· Paul Star
·【wine】
·Red and white
· 【Wine cocktail】
· Sangria / Kitty / Keel
·【whisky】
· Dewar's White · Label / Dewers High Bowl / Ginger High Ball / Cork High Ball
· [Shochu]
· Wakara / starch potato
·【Plum wine】
Minami Takumi plum wine
·【Cocktail】
· Gin Tonic / Jin Ricky / Jim Buck / Vodka Tonic / Moscommeureur / Screwdriver / Bulldock / Rum Tonic / Rum Coke / Mojito
·【Cocktail】
· Cassis soda / cassis orange / cassis grapefruit / cassis oolong / peach soda / peach orange / peach grapefruit / peach oolong / lycheesada / lychee orange / litchi grapefruit / lychemoni
· [Southern drinks]
· Oolong tea / ginger ale (dry) / cola / orange juice / grapefruit juice
2018/10/01 update